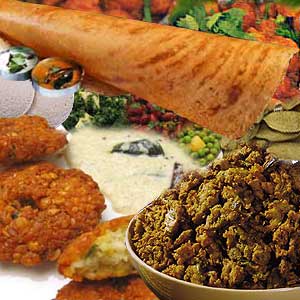 India is a land which is known to offer various delicacies both sweet and savory. Be it any region in India, the Indian food is one thing which is most admired and savored all across the world. There are various versions which have resemblance to food served in other countries as well for example the dosa in India has a resemblance to pancakes served in the western countries. With the mention of dosa, one thing that comes to the mind of many is shirt and lungi wearing men coupled with fragrances of curries and curry leaves. It is all about the South Indian food menu that bring to fore various spices, vegetables, aromas, tastes and flavors to fore.
South India is a combination of four states including Andhra Pradesh, Tamil Nadu, Karnataka, and Kerala. Though one can see the geographical and cultural influences in the food so offered in these states. Popular for their hot and humid climate these states also get abundant rainfall making them the coastal regions of India. Due to rainfall these regions also get a fresh supply of fruits, vegetables, herbs and seafood. Though Andhra Pradesh and Tamil Nadu are largely vegetarian regions but that also offer huge range of sea food delicacies. On the other hand Kerala is all about Malabari cooking rending some of the most tasty seafood dishes.
Many believe that the South Indian recipes known to be full of spices thus making them the most hottest of dishes available in India, but it is just a misbelieve, as not all the dishes so served under the South Indian cuisines are not spicy. Some of the most popular south Indian recipes include idlis, dosas, vadas, sambar, uttapams, rasam, payasam and alike. It is for the taste and flavor so offered by these south Indiancuisines that they have become world famous.
Special flavors, spicesand ingredients in the form of curry leaves, mustard, pepper, peppercorns, tamarind, asafetida, chilies and fenugreek seeds add extra flavor and aroma to these south Indian recipes. One can also say that the use of coconut oil in most of the dishes for cooking and frying brings out the extra flavor of the vegetables and spices making the south Indian Recipes a hit with all across the world. Most of these recipes are easy to make at home as well but only a south Indian can render that exact taste of flavors and aroma to them.